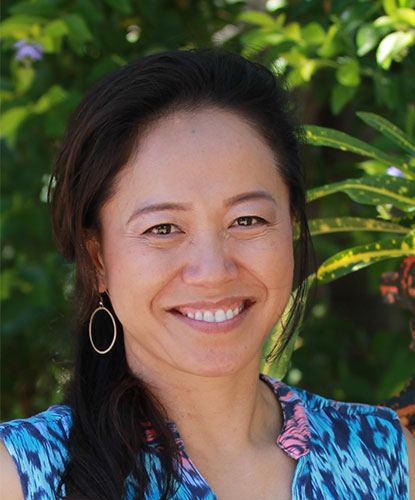 Amber Ngo R(S)
Revenue and Distribution Manager
Amber is a Revenue and Distribution Manager at MPP who rather serendipitously found herself on Maui. After a four-and-a-half month stint in Viet Nam, Amber bought a one-way ticket to Oahu. She packed just one 50lb backpack and had never even been to Hawaii. After landing at HNL though, she took one look at the bustling traffic and walked right back inside the airport, On the advice of a Hawaiian Airlines attendant, she bought a ticket to Maui and has been here ever since.
Prior to joining MPP, Amber worked in sales and marketing for the Hyatt and Westin and worked in real estate sales throughout Maui. Before coming to Maui she worked in construction project management in Los Angeles.
Amber has headed youth leadership programs for Maui County and its international sister cities. She is active with a number of non-profits including Grow Some Good (school garden programs throughout Maui) and Soroptimist International (Girl Empowerment Program, Youth Citizenship Award, Junior Youth Citizenship Award, and Women Helping Women).
Before settling down on Maui, Amber traveled and lived in 40 countries. Her most memorable travel experiences include a year in New Zealand, hot air ballooning over the Serengeti, exploring Viet Nam from northern border with China to southernmost island of Phu Quoc, winter's northern lights in Selawik, Alaska, and enjoying fresh homemade spaghetti with olive oil and sea salt with an Italian family in southern Italy.
Phone: 808.214.1011
Email: info@mpphawaii.com