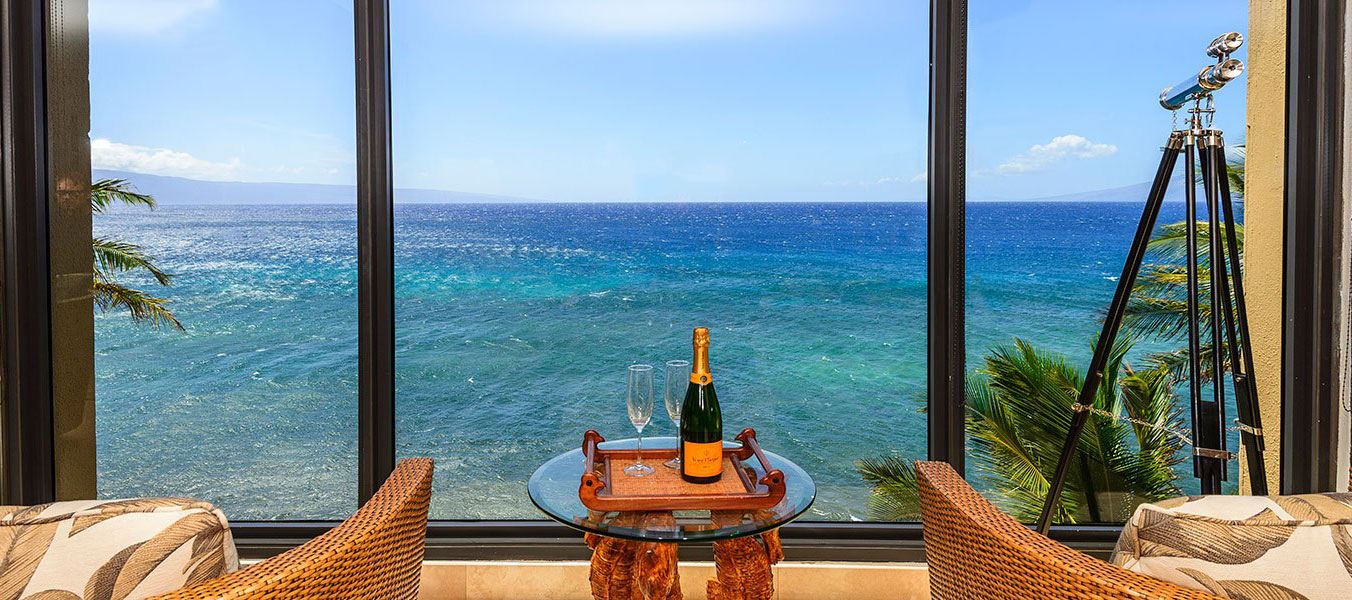 Relax in a luxurious retreat
ESCAPE TO MAUI
MAUI VACATION RENTALS
by Maui Paradise Properties, Where Vacation Dreams Become Reality –
If you're looking for a Maui Vacation Rental, look no further! In the middle of the Pacific Ocean sits islands of exceptional beauty – places where magnificent chiseled peaks are never far from view and the turquoise water of the pacific peek through abundant tropical flora and swaying palms. The Hawaiian Islands are a place that conjures dreams of year-round warm breezes, tranquility, and endless possibilities.
In the middle of this island chain sits the quintessential paradise of Maui. Start exploring this paradise today and all it has to offer from memorable landscapes to thrilling activities and attractions, let us be your guide to Maui! Fall in love with Maui, just as we did – a lush oasis escape where you can explore and unwind!
We have over 300 vacation rentals scattered throughout the island that offer a variety of features and amenities perfect for your next vacation! Find the perfect condo with resort-style features, a beachfront cabana, or custom home with panoramic Pacific Ocean views – and so much more.
Whatever you need we've got it! The luxury of infinity pools, saunas, beautifully designed interiors, tons of activities and attractions and nearby dining make relaxing easier and more convenient than ever. So, what are you waiting for, Browse and Book your Maui vacation rental direct with MPP Vacation today, we guarantee our customer service and attention to detail will be just as unforgettable as your tropical vacation!
So what does your dream vacation look like? Let's make it a reality.
---
WHAT ARE THE BENEFITS OF BOOKING DIRECT?
When you book directly through a Vacation Rental Management Company like Maui Paradise Properties, you not only get the best rate possible, but you also receive local assistance before and during your vacation!
THINGS TO DO IN MAUI
Browse Your Experience Options
From exciting outdoor adventures like volcano tours and snorkeling to shopping, dining, and local entertainment Maui has so much to do, see and enjoy on your next vacation! Whether you want to spend time on the beach or in the jungle there is something for everyone in Maui. Let us be your guide in planning the best Hawaiian vacation.
Why Maui Paradise Properties?
Our team of professionals has extensive experience in creating the best rental experience for our guests. That means outstanding amenities, an easy booking process, and resources to plan a memorable stay. We do all this and more so you can have an unforgettable vacation. From vacation rental services to property management we take extreme pride in how we do business boasting fair and honest practices to keep you coming back year after year!
---

Testimonials & Reviews
"True professionals that take care of their clients"
Maui Paradise Properties is a great examples of the Aloha spirit. Through the entire process of finding a property, buying just the right house and then making sure every detail was followed through, every i dotted and every t crossed they walked us through every detail. Even now, after the sale has gone through there is never a time when they don't take our call. True professionals that take care of their clients and treat them as their Ohana (family).
"Helped me achieve my dream"
The sales and vacation rental teams have helped me achieve my dream of owning in Kapalua and having an investment to enjoy and to make money They are very honest in their dealings and I felt very comfortable putting my trust in them. The unit stays in incredible condition, has great guest reviews and then we get to come out anytime we want and enjoy it too.
"Had my best interest at heart"
Diane was so thorough and patient through the entire process. She kept me up to date along the way and flagged potential issues ahead of time. I always felt like she had my best interest at heart.
"Maui Investment"
John's support in not only the buying process, the management and rental process but also the investment strategy around rentals, the in's and out's of different types of properties, their expected income and expenses help me to make an informed investment decision and helped me achieve my ownership in Hawaii.