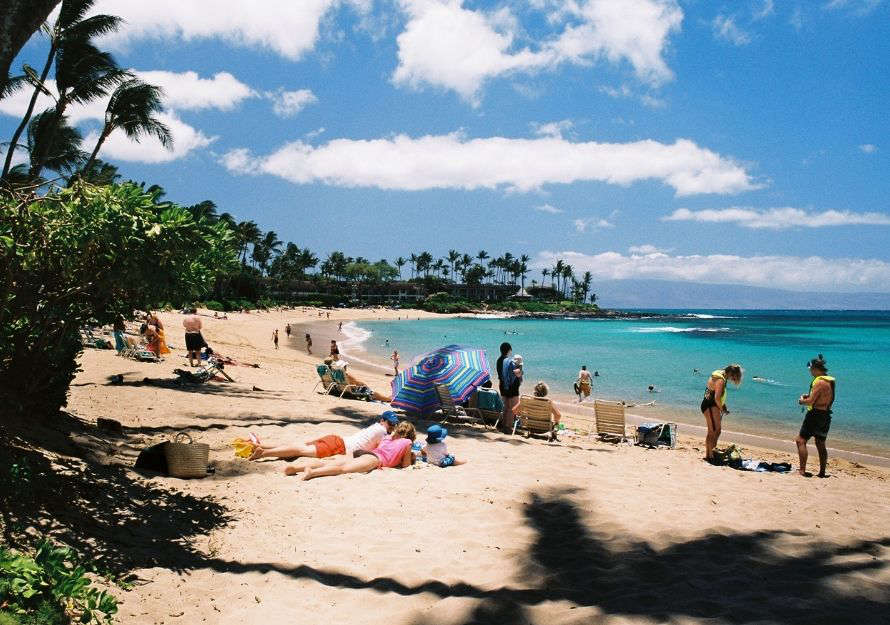 Unforgettable Maui Adventures for the Whole Family
August 4, 2023
Planning your maiden family voyage to Maui? The enchanting island beckons with diverse offerings tailored to suit every familial whim and fancy. From the giggles of toddlers to the quest for adventure by teenagers, your choice of Maui vacation rental will hinge upon your kids' ages, preferred amenities, and the adventure quotient you seek.
The West and South shores of Maui emerge as the crown jewels for family escapades. These regions boast not just a plethora of vacation rentals but also offer doorstep access to pristine beaches that are nothing short of world-class. Dive into exhilarating water sports, saunter along the endless shoreline, or simply bask in the sun – ensuring that every family member, regardless of age, carries home memories drenched in sun, sand, and smiles.
Photo Credit: Photo by Justin Busa on Unsplash
Experience West Maui's Magic
Kapalua
Venture to the captivating West Maui, beginning with the serene haven of Kapalua. Here, some of Hawaii's most illustrious golf courses stretch out under the tropical sun. For the young and the young-at-heart, powdery white sand beaches await, complemented by accessible reefs for those taking their initial plunge into the world of snorkeling. Adventure beckons at the marine sanctuary of Honolua Bay — a family expedition featuring a scenic hike through verdant jungles leading to the pristine shoreline. 
While there, don't miss out on sipping fresh coconut water from the Coconut Caboose, perfectly positioned to offer breathtaking views of the bay's azure reef system. Surrounding beaches, like DT Fleming and Slaughterhouse (a charming spot that belies its fierce name), welcome visitors with their unique appeal.
Napili Bay
Napili Bay stands out as a gem, often touted as one of Maui's most picturesque coves. Regular visits by Green Sea Turtles make it an enchanting spot for families, and the bay's crystal-clear waters during morning hours provide an ideal setting for a group paddleboarding adventure.
Many nearby vacation rentals not only offer homey comforts but also ensure you're equipped for the beach. Plus, with board rentals just a short stroll away and the convenience of a nearby grocery store, a weekly farmers market, and an array of family-centric dining venues, Napili-Honokowai effortlessly pitches itself as the perfect base for a memorable Maui family retreat.
Photo Credit: Photo by Andrew Bain on Unsplash
Kaanapali: A Family Haven
Seeking a Maui adventure that minimizes long drives and maximizes immersive experiences? Kaanapali emerges as the ideal destination for families craving both convenience and enchantment. With its stunning beach consistently crowned among the world's best, a scenic boardwalk hugs the sun-kissed shores, seamlessly connecting premier resorts and vacation rentals to the renowned Black Rock. This spot boasts a snorkeler's paradise catering to diverse skill levels, adrenaline-fueled cliff diving for adventurous teens, and gently sloping sands ideal for tiny tots.
Whalers Village
At the heart of this coastal stretch is Whalers Village, a vibrant hub that orchestrates family movie nights, unparalleled shopping, and delectable dining experiences. For the younger crowd, a splash pad and climbing structure promise endless fun.
Convenient, Central Maui
Maalaea Harbor
When you think of Maalaea Harbor, think 'central'. This location stands unmatched for families eager to dive into Maui's myriad attractions. For those enthusiastic about embarking on a sunrise journey to Molokini Crater, the convenience of staying in a nearby Maalaea vacation rental makes those dawn departures a breeze. And when it's time to refuel, the Maui Harbor Shops extend a welcoming platter with a diverse range of restaurants and cozy cafes.
For the young and inquisitive, the Maui Ocean Center is a treasure trove. Revered as one of the globe's top aquariums, it serves as a mesmerizing window into Hawaii's rich aquatic tapestry. And when it comes to accommodations, Maalaea ensures you're never far from the gentle lull of waves; each of our Maalaea vacation rentals promises swift access to golden sands and most, a sweeping canvas of the vast ocean.
A stone's throw away is North Kihei, a locale that is the epitome of a well-rounded family vacation spot in Maui. Let the poetic charm of Sugar Beach enchant you—its expansive white sands are the perfect backdrop for leisurely walks post indulging in the area's famed shaved ice or sipping a refreshing coconut from a nearby farmers market.