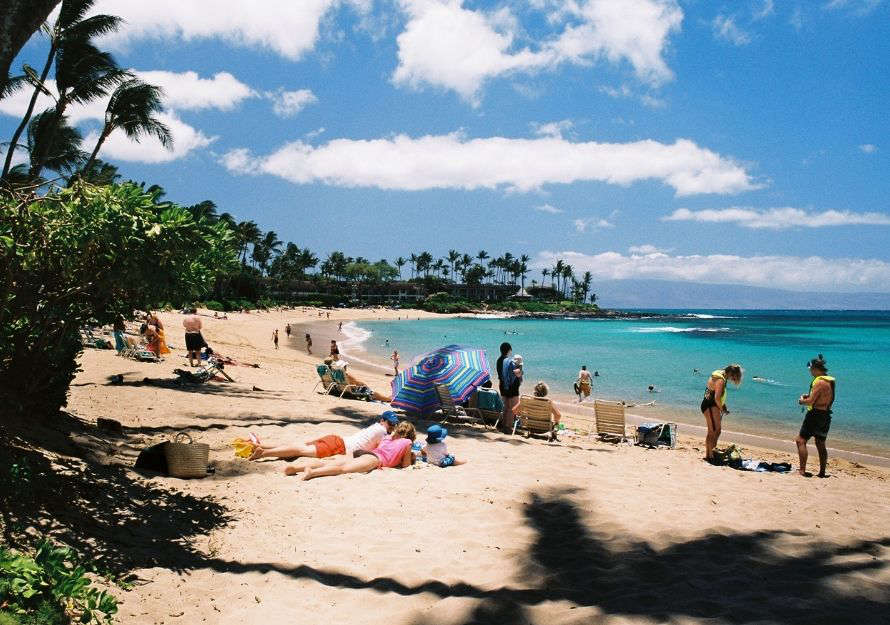 FAMILY VACATION TO MAUI – BEST CITIES
November 4, 2021
If you are planning your first family vacation in Maui, you may be wondering what area of the island will best suit your expectations. The ultimate family vacation in Maui for you will depend on the age of your children, the type of amenities you seek and activities you desire.
In general, the West and South sides of Maui are the best areas for a family vacation. With an abundance of vacation rentals in close proximity to world class beaches, every water sport and endless shoreline exploration, these locations are sure to keep every member of the family entertained.
Dreamy West Maui
Starting at the far West side of the island, Kapalua offers some of the top-rated golf courses in Hawaii. White sand beaches cater to young travelers, as does easy reef access for beginner snorkelers. The marine sanctuary of Honolua Bay beckons a family adventure that includes a short hike through lush jungle to the shoreline. Grab a fresh coconut from the Coconut Caboose overlooking the turquoise reef system of this iconic bay. Other top beaches in the area include DT Fleming and Slaughterhouse (much nicer than the name implies, this beach is accessed by a stair system from the main road).
Napili Bay is another family favorite and one of the prettiest little beaches on Maui. Green Sea Turtles frequent the shoreline and the crystal clear conditions of the mornings here are perfect for a family paddleboard session. Many vacation rentals offer beach gear, there are also board rentals in walking distance to the bay. A small grocery store, weekly farmers market and selection of family-friendly dining options make Napili a comfortable home base for a family vacation in Maui.
Vacation Paradise in Kaanapali
If you're looking to cut down on drive time with kids in the car but still want to experience the best that Maui has to offer, Kaanapali may be the perfect place for your family vacation in Maui. Consistently ranked one of the best beaches in the entire world, a boardwalk follows the white sand shoreline bordering resorts and vacation rentals to famous Black Rock. Here you will find idyllic snorkeling conditions for all ages and abilities, as well as adrenaline-inducing cliff jumping for the teens and a moderately sloped beach for toddlers. Whalers Village hosts family movie nights, excellent shopping and dining as well as a splash pad and climbing structure for kids. Many tours depart from Kaanapali and nearby Lahaina, including surf lessons, snorkeling boats equipped with slides and diving boards, and even a submarine suitable for all ages.
While resort amenities are a must for many families seeking relaxation and low maintenance enjoyment, the privacy of a house may make more sense for your family vacation in Maui. Luckily, there are vacation rentals ranging from small plantation-style cottages by the beach to hillside luxury estates within the Lahaina area.
Front street in Lahaina is where all the action of the West side converges. Kids love the massive banyan tree that marks the town center, made extra special at dusk when hundreds of birds call from the branches, and during the holidays when it becomes illuminated with festive lights. It is nearly impossible to get bored in Lahaina town, many ways to stay active and more than enough entertainment to suit any age. Dining ranges from casual cheeseburger joints to classy rooftop restaurants with live music nightly.
Convenient, Central Maui
If there is one word that sums up Maalaea Harbor, it would be 'central'. The location is hard to beat in terms of exploring the many sights of Maui. Early morning departures to Molokini Crater aboard one of the snorkeling tours will be much less painful with the close proximity of a Maalaea vacation rental. The Maui Harbor Shops host a variety of restaurants and cafes.
Every single child will LOVE the Maui Ocean Center, which is rated as one of the best aquariums in the world and an excellent place to learn about the underwater world of Hawaii. All vacation rentals in Maalaea offer easy beach access and most will include unparalleled ocean views.
Almost just as convenient to the rest of the island as Maalaea but with more connection to South Maui sights and amenities, North Kihei is a perfect location for a family vacation in Maui. Sugar Beach is just as sweet as it sounds, with miles of white sand for strolling after a visit to the local shave ice stand or farmers market for a cold fresh coconut.
Beautiful South Maui
Central Kihei is where you'll find many vacation condos that cater to a more self-sufficient vacation style. In unit kitchens allow for more meal prep, cutting budgets and 'sit still' time in restaurants with small children. The family-friendly beaches of Kihei are easily accessible and never far from your accommodation since the town runs parallel with the ocean.
Learn to surf at the Cove, run off some energy at one of the best new playgrounds on the island or search for seashells and turtles on the shoreline. A Kihei family vacation in Maui includes many stress-free hours of quality time spent at the beach with sandy toes and smiling faces.
Last but certainly not least is the far South resort area of Wailea. Well suited to a more luxurious family vacation in Maui, the location is ideal for beach days, poolside lounging and amenity-rich relaxation. Oh, and a local nanny service is just a phone call away for date night at one of the many fine-dining restaurants of the area 😉