Our Top 5 Ka'anapali Vacation Rentals
Ka'anapali – that beautiful beachfront resort and vacation rental community on Maui's western shores. Popular with sun-seeking Instagrammers the world over, it features 3 miles of white sand beaches, world-class shopping and dining, and a variety of activities and attractions. In Ka'anapali, you'll never find yourself at a loss for things to do or places to stay.
This region is also renowned for its award-winning beaches, and it's easy to see why. With its gentle waves and crystal-clear waters, it is a paradise for both beginner and experienced swimmers alike. And for those who prefer to stay on dry land, the Ka'anapali Beach Walk provides a beautiful oceanfront path for strolling, jogging, running, or simply taking in the breathtaking views.
This part of Maui is the perfect base for exploring all that West Maui has to offer. Whether you want to relax on the beach, enjoy the nightlife, or explore the island, Kaanapali has something for everyone. Let's check out our Top 5 Ka'anapali vacation rentals!
Ka'anapali Shores 404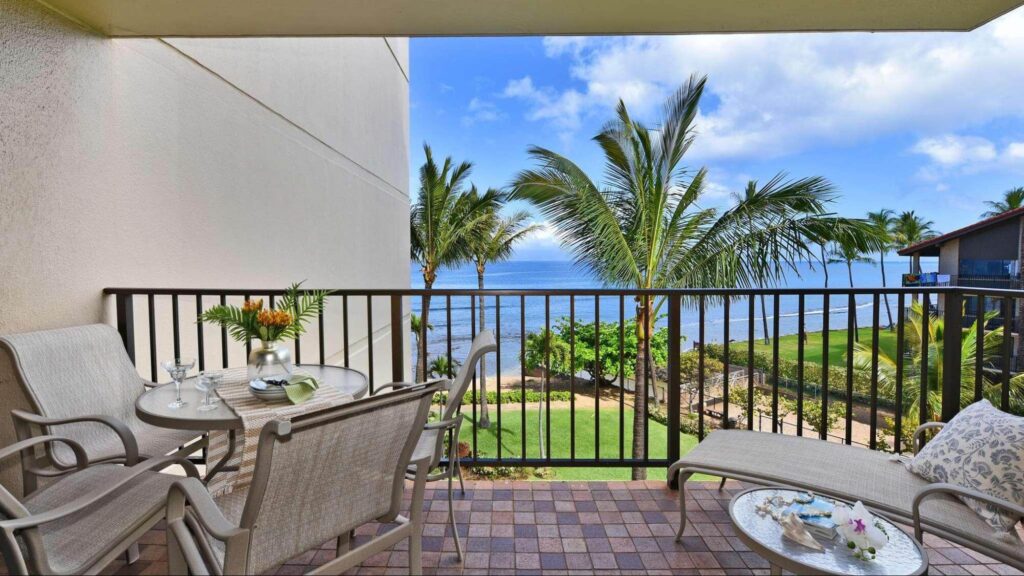 Wake up to the sound of waves crashing on the beach, enjoy a cup of coffee on your private lanai as you watch the bright sky over the ocean. Then spend the day relaxing by the pool, or take a short walk to Ka'anapali Beach to soak up the sun. In the evening, go back to your condo to get ready for a magical night out in Maui.
Kaanapali Shores 404 is centrally located in Ka'anapali. It can sleep up to 6 people comfortably with a king size bed in the master bedroom, 2 twin beds in the guest bedroom, and a sleeper-sofa in the living room. You'll have plenty of space to spread out and relax with 988 ft2 of living space. And the best part? This condo has an incredible ocean view from the main lanai!
Papakea L303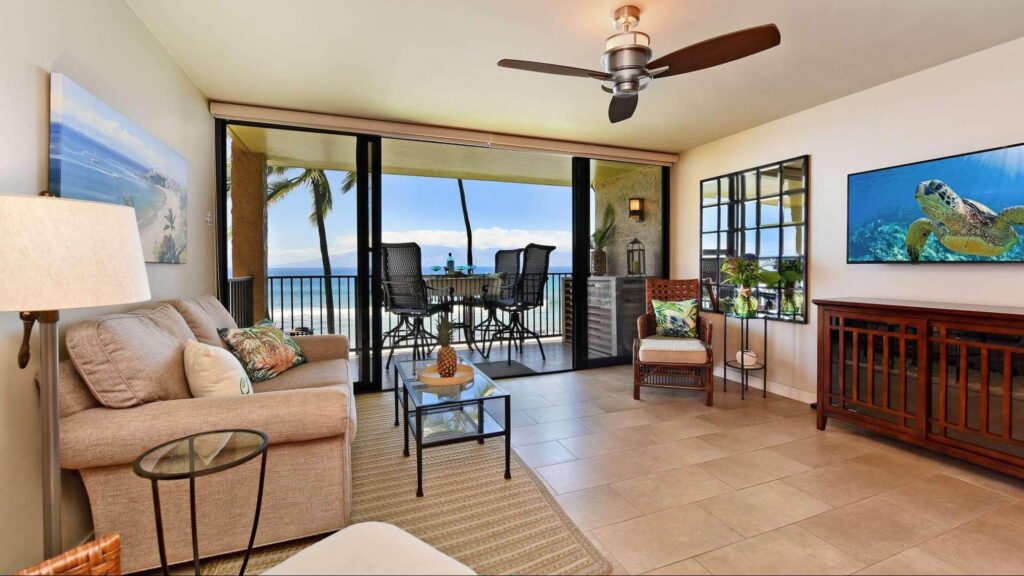 Papakea is one of Maui's most popular resorts. It is situated on 13 acres of beautifully landscaped grounds, right on the ocean. It's just a short walk to north Ka'anapali Beach. The grounds are also home to lush gardens, Koi ponds, and tiki torches that are lit every evening.
The moment you step into Papakea L303, you'll know you've found something special. This beautifully appointed 2-bedroom, 2-bathroom condo is spacious and comfortable. The living room opens to a furnished lanai that overlooks the ocean, providing the perfect spot to relax and watch the waves roll in. The kitchen is fully equipped for preparing meals, and the two bedrooms offer plenty of space for everyone to spread out. This condo offers guests the perfect blend of peace and relaxation.
Mahana 617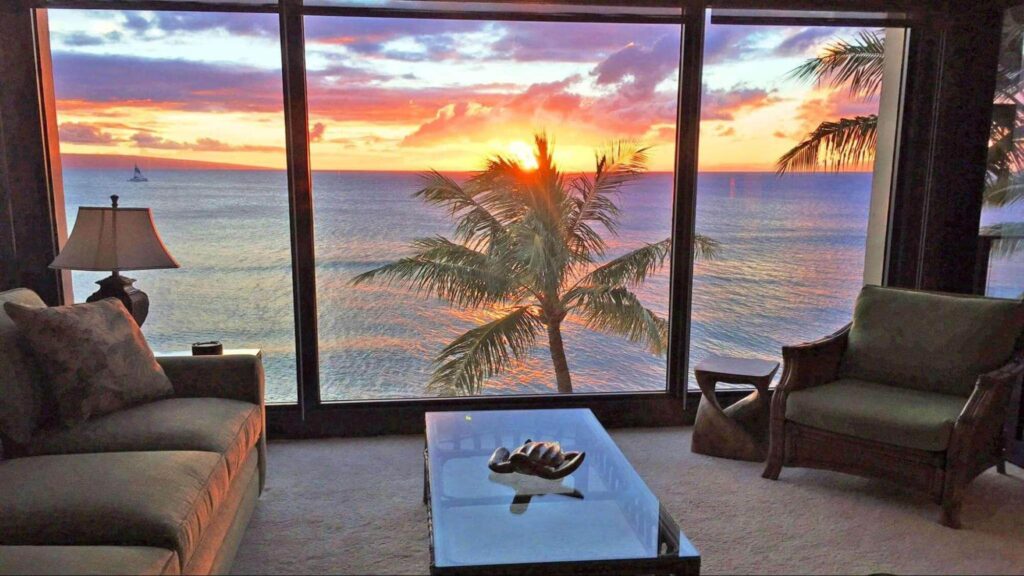 Mahana offers guests the best of both worlds – a quiet, private setting with all the exciting activities of Ka'anapali Beach close by. The resort is situated in the central and convenient Honokowai area on Maui's west side, and a private gate provides easy access to the boardwalk that goes for miles and eventually leads to the Ka'anapali Beach resort area.
Mahana 617 is a great place to relax and enjoy the incredible views of Maui. This one-bedroom, one-bathroom condo unit has stunning panoramic views of the ocean, beach and outer islands from the living room, dining area, bedroom, and lanai. The living room includes a large sectional sofa with a queen sofa bed to sleep 2 more people. It's a perfect place to relax and enjoy your vacation.
Kaanapali Plantation 25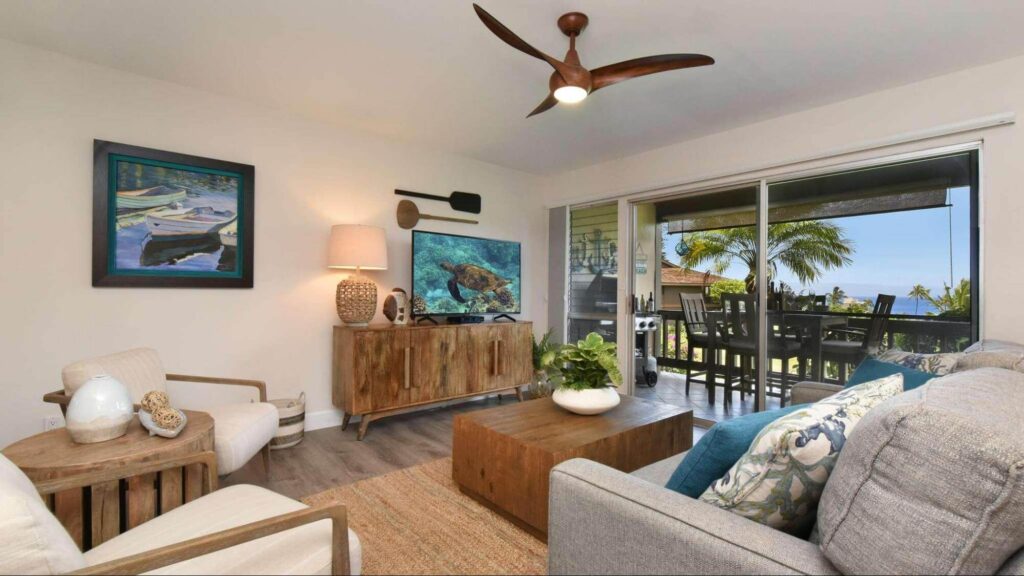 Nestled into West Maui's Kaanapali hillside on vast, beautifully manicured tropical grounds, this Hawaiian plantation style property is just 1 minute drive away from the famous Kahekili or Airport Beach Park area.
Kaanapali Plantation 25 is a spacious and cozy 3-bedroom, 3-bathroom condo is the perfect home base for exploring all that the island has to offer. After a long day of sightseeing, you'll appreciate being able to relax in your master bedroom with a king size bed, private lanai, and ensuite bathroom with a walk-in shower. And if you're traveling with a larger group, our condo can comfortably sleep up to 8 guests with a queen size murphy bed in the second bedroom and 2 twin size beds in the third bedroom. Plus, there's also a sleeper-sofa in the living room. Everything makes this condo an awesome home-away-from-home!
International Colony Club 20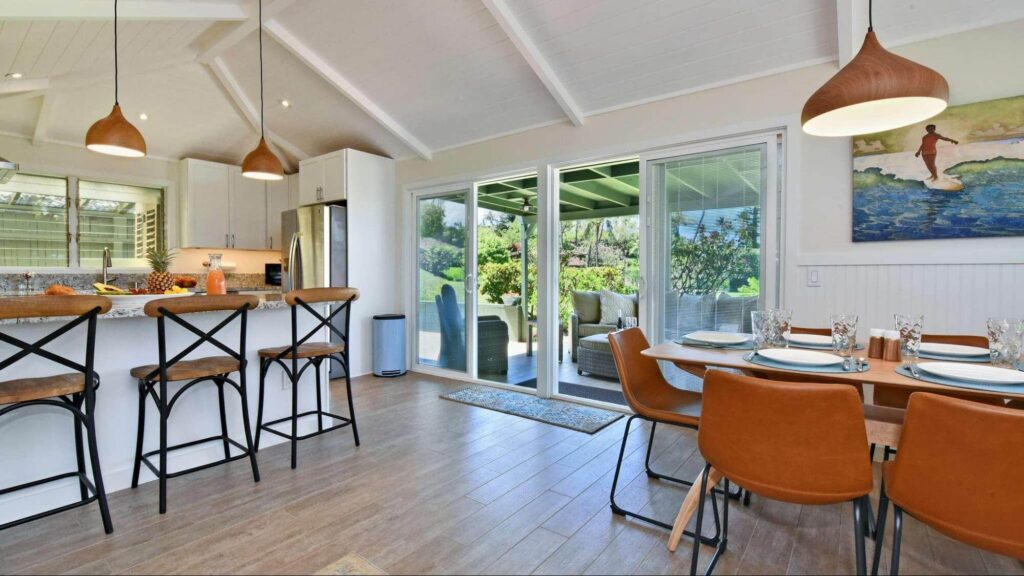 The International Colony Club 20 is the perfect place to relax and escape the hustle and bustle of everyday life. This rustic plantation-style cottage has been recently renovated and boasts an open living concept that combines indoor and outdoor spaces. With its lush tropical surroundings, the cottage is the perfect place to unwind and enjoy some peace and quiet.
The cottage sleeps six and features two bedrooms, a king bed in the master bedroom and a queen bed and bunk beds (twins) in the second bedroom. The living space is spacious and open with a Roku Smart TV, perfect for relaxing after a long day in the sun. There is also a sleeper-sofa in the living space for additional guests. And of course, no beach vacation would be complete without an outdoor gas BBQ grill!
That was our top 5 Kaanapali vacation rentals. So, whether you're looking to spend your days lounging on the beach or hiking through the rainforest, those rentals will have everything you need for a memorable vacation in Maui.
Book your stay today and experience the magic of Maui for yourself! If you need to learn more about Ka'anapali or Maui, be sure to visit the Maui official travel site.
The 3 most commonly asked questions about Ka'anapali
How far is Ka'anapali from Lahaina?
Ka'anapali is 4 miles or a 10-min drive away from Lahaina. The drive takes you through some of the most scenic areas on the island. Along the way, you'll pass sugar cane fields, lush rainforests, and pristine beaches.
How far is Ka'anapali from the airport?
Ka'anapali is 28.5 miles from Kahului Airport. It's about a 45-min drive. Be sure to have your camera handy as you make your way from the airport to Ka'anapali. You'll be treated to some truly stunning scenery!
What's the best place to stay in Ka'anapali, Maui?
A vacation home is a great place to stay in Ka'anapali. Most of them are just minutes from the beach and restaurants. When you stay in a vacation home, you have all the comforts of home with the added convenience of being close to all the fun of Ka'anapali.