Your Guide to Driving on Maui
With its winding roads, spectacular views and local charm, Maui is the perfect place to explore behind the wheel. Seeing the island by road, one town at a time, is an incredible way to experience everything Maui has to offer. From the Road to Hana and the Haleakala Highway, there are no shortage of reasons to rent a car and start exploring. With so many places to see and reasons to go, there are a few things you need to know before you hit the road. Here's your guide to driving on Maui!
Maui's driving requirements
To drive on Maui, you must hold a valid US or Canadian issued driver's license. If you're from another country, you must have an international driver's license or an English-written valid driver's license from your home country plus an International Driver's Permit (IDP). You must also be at least 21 years old to rent a car from most of the car rental agencies, and you may need to show proof of insurance.
If you are looking at car rentals, we have partnered with Aloha Rent A Car and are offering additional 5% discounts. You can use code MPP when booking by phone at 1-877-452-5642.
Speed limits on Maui
If you are accustomed to driving fast at home, you might find yourself feeling impatient when driving on Maui at first. That's because the fastest you can go on Maui's highways is 55 mph, and most roads go between 25 and 45 mph. In villages, the speed limit drops to 35 mph, and on winding roads, the limit is usually around 45 mph.
When you're behind the wheel, enjoy the slower pace of island life. Prepare for a cruise with views of the tropical mountains and ocean. You can take it easy on the slower roads.
Road conditions on Maui
The roads are generally in good condition, but there are some areas that can be a bit challenging to navigate. Make sure to take extra caution when driving around the Hana Highway and on the Road to Hana. These areas are known for their winding roads and narrow shoulders.
Maui's rush hour
The rush hour is normally between 7am and 9am, and 4pm and 6pm on weekday mornings and evenings. Most towns and highways can get very congested. During these times, you'll be happy just to go the speed limit. When coming from west Maui to the central valley, the traffic is the worst as many workers and beachgoers are leaving the area. You can also check out any road closure notifications on the County of Maui website.
Finding parking on Maui
Street parking is free, but finding a spot can be a challenge, especially in popular tourist areas like Lahaina and Kaanapali. The best way to find parking is to arrive early or late, when the crowds are thinner. You can also try parking in a residential area and walking to your destination.
Be sure to read the signs carefully, as some areas have restrictions on parking. If you can't find free street parking, there are also paid lots near many popular attractions. They are usually not expensive. There are a few different ways to pay for parking on Maui. You can pay with cash at some meters, but most accept credit or debit cards.
Gas stations on Maui
Gas is not cheap on Maui, and it's about the same as in California. So, you might want to fill up your tank at one of the island's cheaper gas stations. Costco is normally 50-60 cents cheaper than all other gas stations. If you are not a Costco member or not close to the Costco warehouse in Kahului, then Safeway is the next cheapest gas station. These two gas stations offer competitive prices on gasoline, making them a good choice for budget-minded drivers.
General driving tips and road rules on Maui
While driving, it is imperative that you are not distracted and aware of your surroundings at all times. Most drivers in the island's towns take their time. You should let other cars in when possible and don't honk unless it's an emergency.
If you are unfamiliar with an area, it is best to check a map before setting out on your journey. Be prepared for slow-moving traffic and pedestrians crossing the road, and observe the speed limit at all times, as Maui police are known to enforce it strictly. Remember to always yield to pedestrians, especially in crosswalks.
Never drink and drive, as Maui has strict drunk driving laws. Also, using a cellphone while driving is illegal. The only time you can use your cellphone while driving is to call 911 in an emergency.
Remember not to throw trash out of your car, as it is illegal and disrespectful on Maui. You could be fined between $500 and $1,000. Be sure to dispose of your trash properly to help keep Maui clean and beautiful.
Scenic drives on Maui
Maui is a beautiful island with many different scenic drives. One of the most popular drives is the Road to Hana. This drive takes you through the rainforest and past waterfalls, black sand beaches, and lush vegetation. The Hana Highway is a winding road with many sharp turns, so be sure to take it slow and enjoy the views.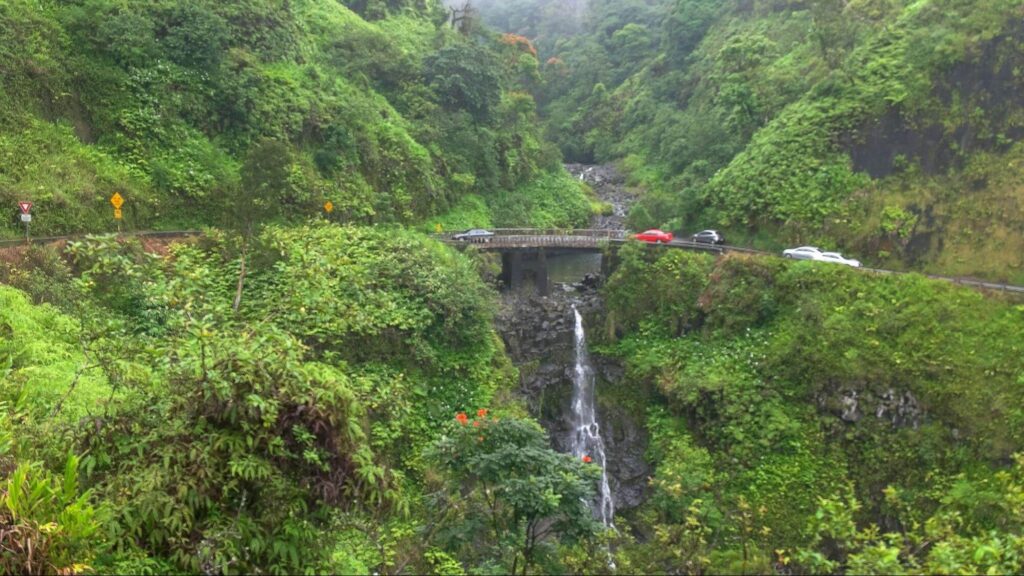 Another popular drive is the Upcountry Maui Drive. This drive takes you through the small town of Makawao and up into the Haleakala Ranch area. The drive is scenic and offers views of Maui's central valley as well as the West Maui Mountains.
For a more challenging drive, you can try the Piilani Highway. This road is the only highway that goes to the south of the island. It is a 10 km stretch where the road narrows to one lane in sharp turns and is full of twists. This drive is not for the faint of heart, but it is definitely an adventure.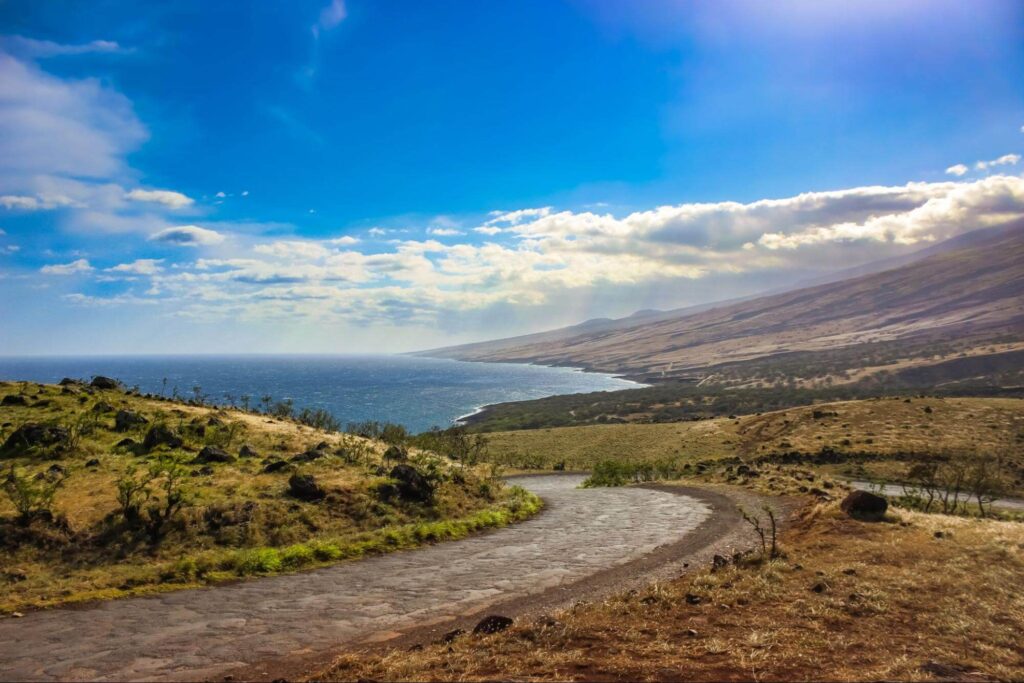 The Nutshell on Driving in Maui
Driving on Maui will be an experience that you won't soon forget. No matter where you drive, you'll find breathtaking views around every turn and charming towns to pull over and explore. Be sure to take your time, enjoy the scenery and the change of pace.
Also, if you haven't booked your vacation rental on Maui yet, check out our listings, where you'll find a great many accommodation options in some of the most popular areas on the island.
FAQs
How long does it take to drive around Maui?
It takes about 9 hours to drive around Maui, not including stops. Not many visitors drive around Maui in one day, though. The majority of visitors take their time while traveling on the island.
What's the best car to drive on Maui?
There's no best car, but convertibles are great for enjoying the scenic views. Jeep Wranglers and Mustang convertibles are very popular but a regular sedan would be good enough to drive around Maui.
Should I drive or join a tour on Maui?
If you enjoy exploring on your own and want the flexibility to plan your own itinerary, then driving may be the better option for you. However, if you prefer to sit back and relax while someone else handles the logistics, then joining tours is probably a better fit.