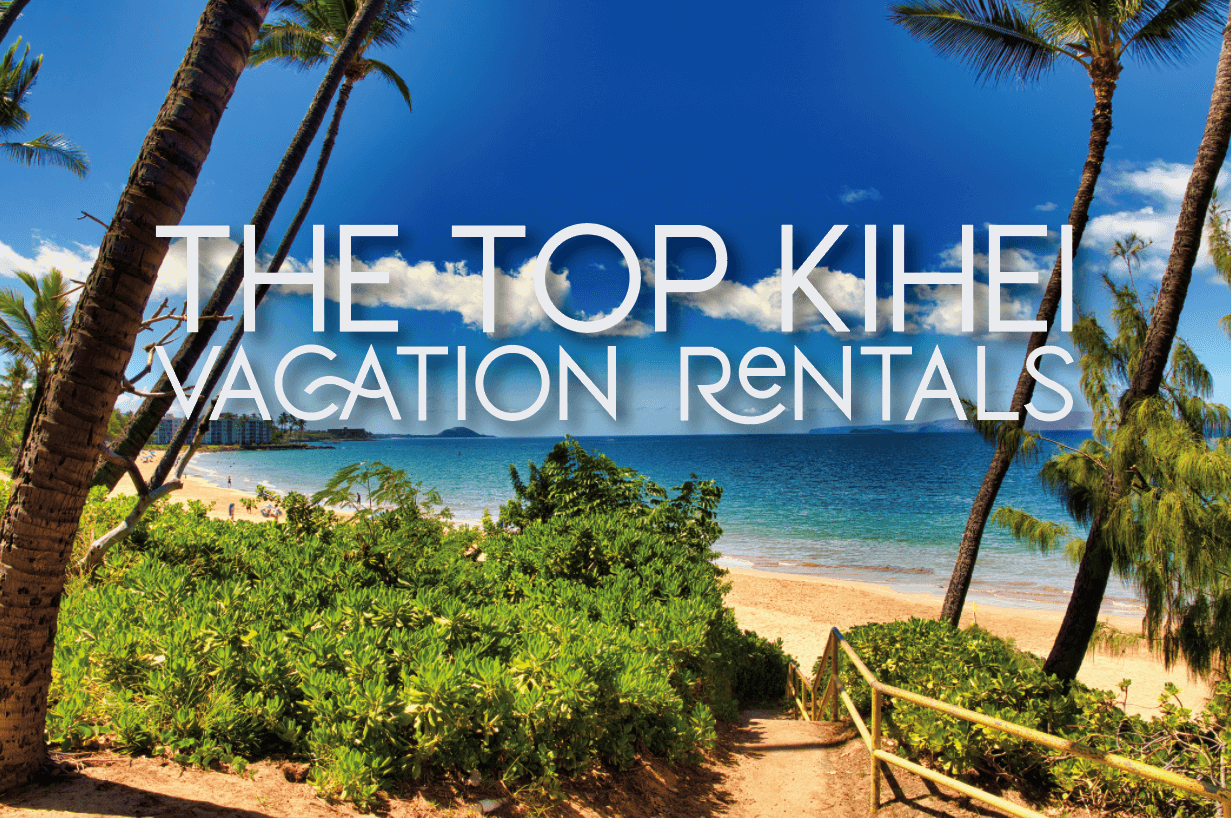 Our Top 5 Kihei Vacation Rentals
If dry weather and gorgeous beaches are a priority on your next trip to Hawaii, our vacation rentals in Kihei in South Maui are a great choice.  Maui's Southside is an energetic seaside town and one of the sunniest places on Maui. With its 6 miles of easy-to-access beaches, Kihei is a paradise for new surfers and paddle boarders thanks to its calmer ocean conditions.
Kihei is also home to some of the best nightlife scenes on the island, making the popular vacation rental area in Maui just as fun at night as it is during the day!
You can zip from one end of Kihei to the other using South Kihei or Pi'olani Highway.
Kihei is just minutes away from popular attractions like Māʻalaea Bay or Wailea, Makena, and La Perouse Bay. This makes it a great base for vacationers to seek Kihei vacation rentals.
Many wonderful beaches to stroll, swim, or relax by the ocean! A few popular beaches include Kalepolepo, Waipuʻilani, and the three beaches of Kamaʻole.
Stay at (or Reserve) one of our top 5 Kihei vacation rentals:
Keawakapu 208
Just a short 3-minute walk away from Keawakapu beach, the Keawakapu condos are perfect for your South Maui vacation. The property is close to white sandy beaches that stretch for over half a mile. Rent a kayak to take on the ocean or simply soak in the sun as you relax on the sand. The condo is right across the street from Kihei boat launch from where you can take a boat for snorkel tours and more!
Keawakapu 208 is a newly renovated and spacious two-bedroom, one-bathroom condo with views of the ocean and Haleakala mountain. This vacation rental in Kihei has a patio with outdoor seating for two and features air conditioning throughout the property.
The conveniently located property also offers a king-sized bed in the master bedroom for a comfortable sleep after a long day of travel. The bathroom features a walk-in shower and the fully equipped kitchen comes with stainless steel appliances, granite countertops, and maple cabinets. The secondary bedroom features a queen bed and the living area has a sleeper sofa.
Menehune Shores 402
Come and experience the perfect Maui getaway with a view of blue waves, white sand beaches, and expansive tropical grounds at Menehune Shores 402. The convenient North Kihei location is close to some amazing water spots as well!
The condo sleeps six people and features two bedrooms and two full-sized bathrooms, with a walk-in shower and a tub/shower combo. The oceanview lanai is accessible from the living room and the master bedroom and opens into the Menehune shores beachfront. Guests can enjoy the oceanfront pool as they soak in the breathtaking views from Kaho'olawe and Molokini Crater.
Nani Kai Hale 308
If you dream of a vacation with ocean views and palm trees welcoming you as you sip on your morning coffee, Nani Kai Hale 308 might be the perfect vacation rental in Maui for you!
This one-bedroom, two-bathroom condo features a gorgeous private lanai with seating that overlooks the pool. The beautifully renovated property is nestled on Sugar Beach in Maalaea Bay and is just a 5-minute drive to the Maalaea Harbor to satiate your boating, shopping and restaurant cravings!
Pacific Shores A318
Pacific Shores A318 is one of the best condo rentals in Kihei to take a break from your hectic lifestyle and relax on the island of Maui. This cozy, safe, and clean vacation rental was recently renovated and sits in the heart of Kihei, on the south side of the Valley Isle.
Just a few steps away from the popular Charley Young Beach, this popular property features a 3rd-floor lanai with ocean views, two bedrooms with two full bathrooms, and a fully equipped kitchen that is fitted with granite countertops and new appliances.
Kamaole Sands 1101
Kamaole Sands 1101 is bound to make your family vacation in Kihei a memorable one! This spacious unit is conveniently located across South Kihei Road near Kamaole Beach parks. This makes it an ideal location to enjoy the ocean with glorious sunset views! The Kihei boat ramp is just down the street from this popular property, and will take you on some of Maui's best boat excursions like the Molokini snorkel adventures!
The condo is situated in a lush tropical resort spread over an area of 15 acres. It features two bedrooms and two bathrooms with a private garden-level lanai that gives you peekaboo ocean views. Both bathrooms come with a shower/tub combination. The spacious kitchen is fully equipped with granite countertops and a tile backsplash.
Whether it's a laid-back beach vacation with your family or an adventurous trip with friends, these fantastic vacation rentals are some of the best to choose from on your next trip to Hawaii.
Three Commonly Asked Questions About Kihei
How far is Kihei from Maui's Kahului International Airport?
Kihei is 13 miles away from Maui's Kahului International Airport. The scenic drive takes about 24 minutes to cover the distance via HI-311 S.
What is Kihei best known for?
Kihei is best known for its beaches that are spread out over 6 miles. Kihei is the go-to area on Maui to learn surfing and paddle boarding due to its calmer ocean conditions.
Is Kihei good for a family vacation?
Kihei is an excellent destination for family vacations thanks to its calmer ocean conditions and laid-back vibes. There are some great kid-friendly resorts in the area and a variety of good food options for the whole family!