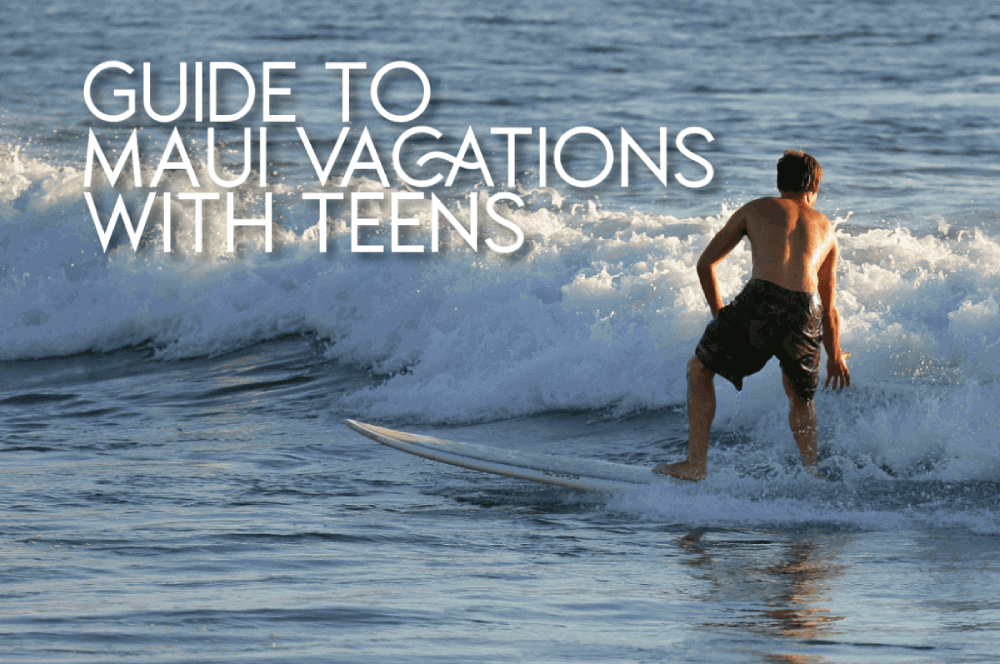 The Ultimate Guide To Maui Vacations With Teens
Maui is the perfect destination for a family vacation, especially with teenagers! No matter what time of the year you visit, there's always so much to do on this beautiful Hawaiian island. From hiking and exploring natural wonders, to surfing lessons and ziplining adventures, or just soaking in the local culture and cuisine, a Maui vacation with any teen can be an unforgettable experience for everyone.
Here's our guide to help you discover all the fun activities you can do together with your family. It's packed with tips on what to do and where to go to make the most of your trip. With a little planning, you're sure to have an unforgettable vacation that your teen will always remember fondly.
Water activities for teens in Maui
Who can say no to all the exciting water activities on Maui? From swimming and snorkeling to scuba diving and surfing, you can just spend your whole vacation in or on the water without a dull moment. The island's warm waters and beautiful beaches make it the perfect place to have fun for a day or two exploring the underwater world. And, with so many different options to choose from, you're sure to find an activity that your teen will enjoy.
Teens love to learn surfing
Surfing is one of the most popular activities on Maui and it's a great place for beginners to start learning. There are many surfing schools that offer lessons for all levels and at some of the less intimidating surf spots. If your teen is already a surfer, they'll be sure to enjoy the waves at one of Maui's many world-class surf spots like Honolua Bay and Ma'alaea.
Stand-up paddle boarding for teens
Stand-up paddle boarding is a great way for first-timers to explore the coastline and get a good workout in at the same time. You will see many different rental places that offer stand-up paddle boards, so it's easy to find one that's close to where you're staying.
Go snorkeling and scuba diving
Snorkeling and scuba diving are popular among travelers who want to explore the underwater world. There are plenty of reefs and shipwreck sites to discover, and you might even see some turtles or dolphins swimming by.
Try windsurfing
Ho'okipa Beach Park is known as the "windsurfing capital of the world" and is the to-go place if your family loves windsurfing. For beginners who are up for a new challenge, sign up for lessons to learn the basic and sail handling skills. It's a great way to bond with your teens.
Join a whale-watching tour
For something a little different, you can also go on a whale-watching tour. Maui is one of the best places in the world to see humpback whales. The North Pacific humpback whales travel to Hawaii's warm tropical seas every December to March and Maui's coastal waters have the largest concentration of these incredible creatures compared to other regions in Hawaii.
Air activities
There are plenty of air activities in Maui to keep your teen occupied on a vacation. From parasailing and zip-lining to helicopter tours and more, there's no shortage of ways to get the adrenaline pumping. And, with stunning views of the island from above, these activities are sure to be a hit with the whole family.
Ziplining
One of the best ways to get an adrenaline rush is by ziplining. And there's no better place to do it than Maui. With several different companies offering tours, you're sure to find one that fits your family's needs. Choose from rainforest canopy tours, coastal cliffside views, or even night ziplines for a truly unique experience.
Paragliding
Have you and your teenagers ever dreamed of flying and soaring through the air like a bird, taking in stunning views as travel? If so, try paragliding for an incredibly peaceful and exhilarating experience! Maui is one of the best places in the world to give it a try. Paraglide Maui offers solo instruction, so you can learn at your own pace. If you don't want to fly solo, there's an option to fly with their instructors.
Hang gliding
Hang gliding in Maui is an adventure like no other. It's another way to get an open-air, bird-eyes view of Maui and you'll be whisked away on the ride of a lifetime. Hang Gliding Maui is some of the best-powered hang gliding in the Pacific. Your teen will be blown away after the ride!
Take a helicopter tour
For those who are not interested in paragliding or hang gliding, taking a helicopter tour is another great option to have an exciting way to see the sights. You can go on an air trip to the most popular attractions in East Maui, including Haleakala Crater, Hana's lush tropical rainforest, breathtaking waterfalls, and deep valleys. It will give you a unique perspective of the area and is sure to be a memorable experience.
Land activities
While the island is best known for its water and air activities, there are also plenty of great land activities on Maui to enjoy. And the best part is that you don't have to be a professional athlete to enjoy these activities. Whether you're looking for a relaxing day riding along the scenic roads or a leisurely stroll through paradise, you will never feel bored.
Go for a hike
Hiking is an awesome way to explore the mountains and the island's natural beauty. No matter what your level of experience is, you will be able to find a hike that's suitable for your family. If your teen loves challenges, try hiking to the top of Haleakala, Maui's tallest mountain, for some incredible views.
Horseback riding
There are many stables on the island that have horses for riders of all skill levels. Most trips last between 1 and 6 hours. Maui Mountain Activities has horse and mule rides that take you up into the West Maui Mountains to see waterfalls and then down to the beach, where you can ride next to the waves along the Pacific Ocean.
Explore the island by bike
Maui has some of the most beautiful and scenic roads in the world. And what better way to see them than by bike? Depending on your preference, you can choose from self-guided tours or guided tours. If your teen is looking for a challenge, try the Haleakala Downhill Bike Tour. You'll start at the top of Haleakala and ride down to the beach. It will be an amazing experience!
Visit Maui Tropical Plantation
Maui Tropical Plantation is a working plantation that has been turned into a tourist attraction in Waikap Valley. There, you can see over 40 different kinds of crops and can find many things to do. Try taking a tram ride around the grounds, visiting the gardens, ziplining, and learning about the history of the plantation.
Road to Hana
One of the best ways to see Maui is by taking a Road to Hana tour. This is a relaxing way to see all the sights along Hana Highway, and the knowledgeable tour guide will do the driving so you can take in the scenery. This is the most relaxing way to see waterfalls and great beaches without missing anything along the way.
In a nutshell,
Whether your teen is looking for an adventure or just wants to relax on the beach, Maui has something for everyone. With a little planning, you can have an amazing and memorable Maui Vacation with your teens.
Book your Maui vacation rental today and come experience all that the island has to offer!
FAQ
When is Maui's rainy season?
Maui's rainy season is typically from mid-November to late March. Most rain showers don't last long and will follow by more sunshine.
Which Maui airport to fly into?
Kahului Airport (OGG) is the main and the largest airport on Maui. Depending on where you are coming from, you can also fly to the other 2 smaller airports – Hana Airport (HNM) in East Maui and Kapalua Airport (JHM) in West Maui.
Where can I see turtles on Maui?
One of the best places to see turtles is at Turtle Town. It is located on the South Shore of Maui in Makena. You can snorkel with the turtles or just watch them from the shore.