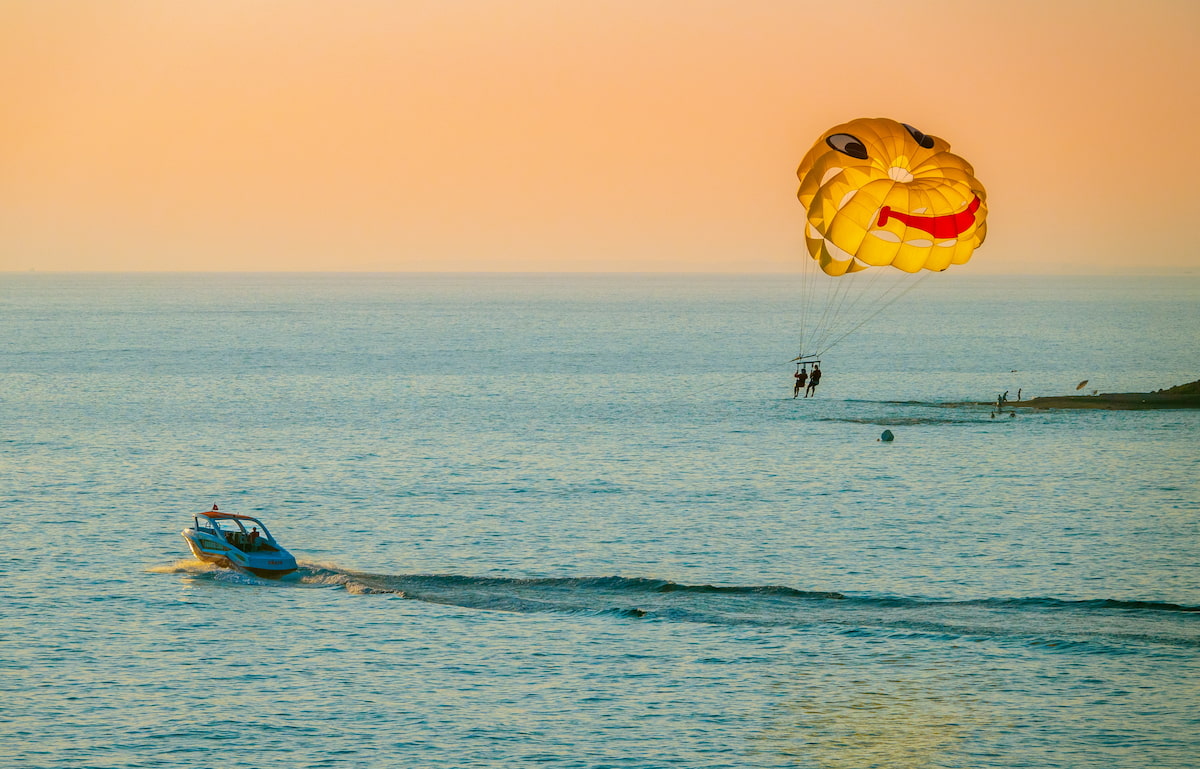 Maui Parasailing: Soar High Above Paradise and Experience the Island Like Never Before!
The breathtaking island of Maui, one of Hawaii's most popular destinations, offers a plethora of thrilling activities for adventure-seekers. But few experiences can rival the exhilaration of parasailing above the crystal-clear waters of the Pacific Ocean. This unique activity combines the adrenaline rush of flying with the serene beauty of Maui's stunning coastlines, providing visitors with an unforgettable adventure. Read on as we explore the ins and outs of parasailing on Maui, along with tips and recommendations to make your experience truly memorable.
Why Choose to Soar The Skies on Maui?
Maui, with its diverse landscape and stunning coastlines, is the perfect location for parasailing. The island's reliable trade winds and warm, sunny weather create ideal conditions for this exciting activity. Parasailing on Maui also offers unparalleled views of the lush West Maui Mountains that you won't get anywhere else. It's so much better than being in a plane or helicopter. With parasailing, you become the kite, soaring through the open air above the sparkling Pacific Ocean and the neighboring islands of Lanai and Molokai – a truly special experience.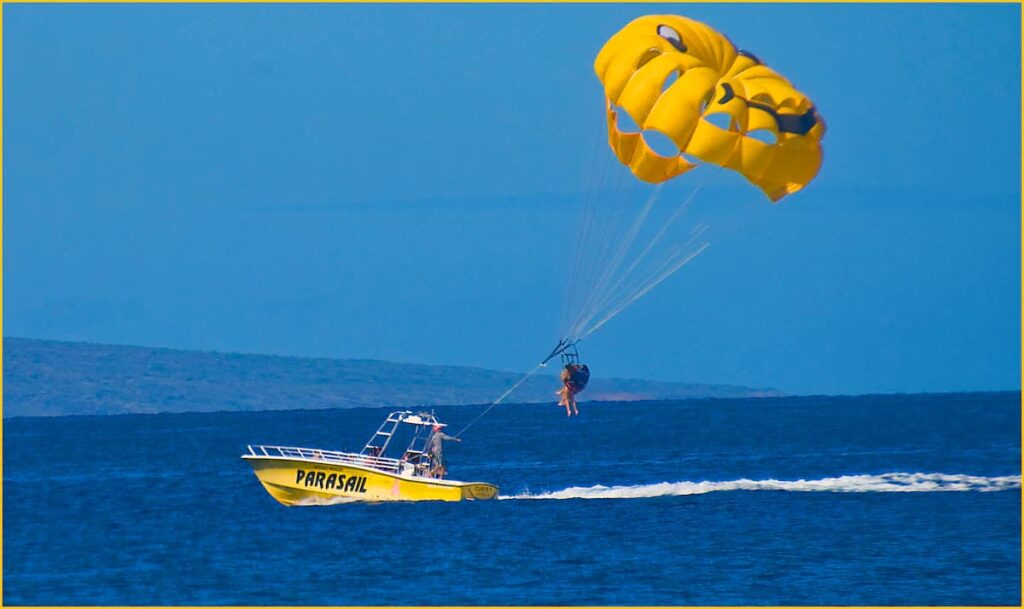 First Time Parasailers
For those wondering what parasailing really entails, it is where you are towed behind a boat while attached to a parasail wing or parachute. This is when you begin to 'float' in the air, fully attached to both the sail and the boat of course! As the boat creates drag, the parachute lifts you into the air, and you can fly anywhere from 200 – 500 feet above the sea!
The elevation will be high and windy, and you're likely to have a birds-eye view of Maui's pristine coastline. Before you go parasailing, make sure you're wearing sunscreen. The sun can be intense when you're up in the air, and you don't want to get sunburned. While in the air, you'll be able to take in the stunning sights of Maui, maybe even snap a few pictures. For this reason, make sure to bring a camera. It could be wise to bring a waterproof camera, like a GoPro, as the instructors might dunk you in the water before landing. After the ride, you'll be able to enjoy the trip back to land on the boat, taking in the sun and sea air.
What to Expect
It's a good idea to have a general understanding of what to expect before booking your parasailing adventure. Upon arrival, you'll be given a safety briefing and fitted with a harness before boarding the boat. Once you're ready, you'll take off and soar high above the water while feeling the wind in your hair.
Most firms will have you load onto the boat via the beach or dock. You'll bid farewell to the shoreline and say hello to open water and sea air. When the boat is far enough out to sea and the captain is ready, the fliers are fitted into a harness and slowly hoisted into the air. Everyone gets a life vest, so if you choose to jump into the water after your parasail, you're safe.
Safety First
When it comes to parasailing on Maui, safety is a priority. Here are some important tips to keep in mind when parasailing on this beautiful island;
It's essential that you use a reputable and experienced captain who is familiar with the area, as the success of your trip depends on it. It should be noted that many parasailing companies have a minimum age requirement. It is also important to listen to the captain's instructions and follow them carefully.
Parasailing companies always use the latest safety equipment to minimize risk. Some reputable parasailing companies include UFO Parasail and West Maui Parasail.
Check the weather conditions before heading out, and be sure to dress appropriately for the day.
Be aware of your surroundings and look out for dolphins and other marine life in the waters below.
Have fun! Parasailing is a great way to see the beautiful coastline of Maui from a different perspective.
Following these simple tips will help you have an enjoyable experience while parasailing above the beautiful waters of Maui.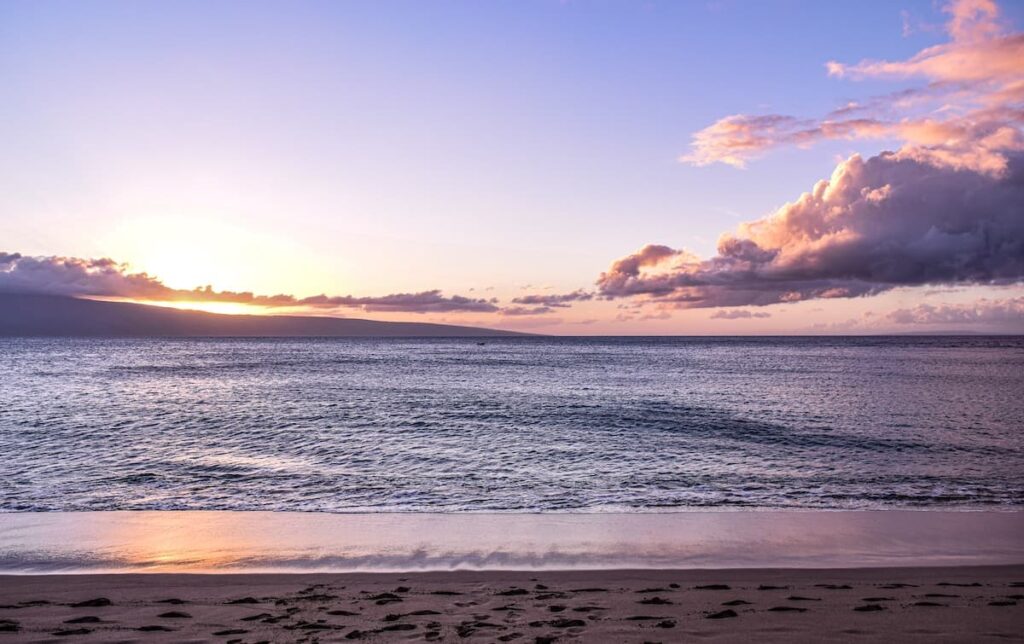 Best Time and Place for Parasailing on Maui
The best time to go parasailing on Maui is during the summer months, typically from May through September. During this period, the weather conditions are ideal, with consistent trade winds, warm temperatures, and clear skies, providing the perfect environment for parasailing. However, it is essential to note that parasailing operations are closed from December 15th through May 15th due to humpback whale migration in the area.
As for the best place to go parasailing on Maui, there are two primary locations: Kaanapali Beach and Lahaina. Kaanapali Beach is located on the western shore of Maui, Kaanapali Beach is a world-renowned resort area with pristine beaches and crystal-clear waters. Parasailing operators in this area offer an unforgettable experience, giving you a bird's-eye view of the West Maui Mountains and neighboring islands.
Lahaina is a historic town on Maui's western coast and features a vibrant harbor popular among tourists for its shops, restaurants, and art galleries. Parasailing in Lahaina allows you to enjoy stunning coastal views while soaring above the sparkling Pacific Ocean.
Both locations provide exceptional parasailing experiences, so you can't go wrong with either choice. However, consider factors such as proximity to your Maui vacation rental accommodation, personal preferences, and other planned activities when deciding which location is best suited for your parasailing adventure on Maui.
Get Ready to Soar Above Paradise
Parasailing on Maui is a once-in-a-lifetime experience that offers an unrivaled perspective of the island's stunning beauty. Whether you're a thrill-seeker or simply looking to make unforgettable memories, this exhilarating adventure is sure to leave you with a newfound appreciation for Maui's captivating landscape. Take a look at the luxury vacation rentals available in Maui and check its proximity to the nearest parasailing company. So, strap in, soar high, and take in the breathtaking views as you embark on your parasailing journey in paradise.
Some Commonly Asked Questions About Parasailing in Maui
Is parasailing on Maui safe?
Yes, parasailing on Maui is safe when you choose a reputable and experienced operator that follows strict safety guidelines, employs certified instructors, and maintains their equipment regularly. Accidents are rare, and operators prioritize safety to ensure a smooth and enjoyable experience for their guests.
Can I go parasailing if I can't swim?
Yes, non-swimmers can go parasailing. Participants are provided with life jackets and safety harnesses. Additionally, take-off and landing generally occur on the boat, reducing the likelihood of ending up in the water. However, it's essential to inform your parasailing operator of your swimming abilities beforehand, so they can take any necessary precautions.
Can I parasail with a friend or family member?
Yes, tandem parasailing, where two or sometimes even three people fly together, is a popular option on Maui. The combined weight of participants must be within the operator's specified weight limits, and wind conditions must be favorable for tandem flights.
Can I parasail with a friend or family member?
Yes, tandem parasailing, where two or sometimes even three people fly together, is a popular option on Maui. The combined weight of participants must be within the operator's specified weight limits, and wind conditions must be favorable for tandem flights.
How long does a parasailing session last?
A parasailing session typically lasts between 45 minutes to an hour, including the safety briefing, preparation, and the flight itself. The actual flight duration may vary between 8 to 12 minutes, depending on the package you choose.
What happens if the weather is unfavorable?
Parasailing is a weather-dependent activity. If the wind or sea conditions are unsuitable, your flight may be rescheduled or canceled. Reputable operators prioritize safety and will inform you if it's necessary to change your plans. It's advisable to have a flexible schedule and a backup plan in case of unfavorable weather conditions.
Can I take pictures while parasailing?
Yes, you can take pictures while parasailing. Bringing a waterproof camera or a GoPro is an excellent way to capture your adventure. Some parasailing operators also offer photo packages, where they take professional-quality photos or videos of your experience.