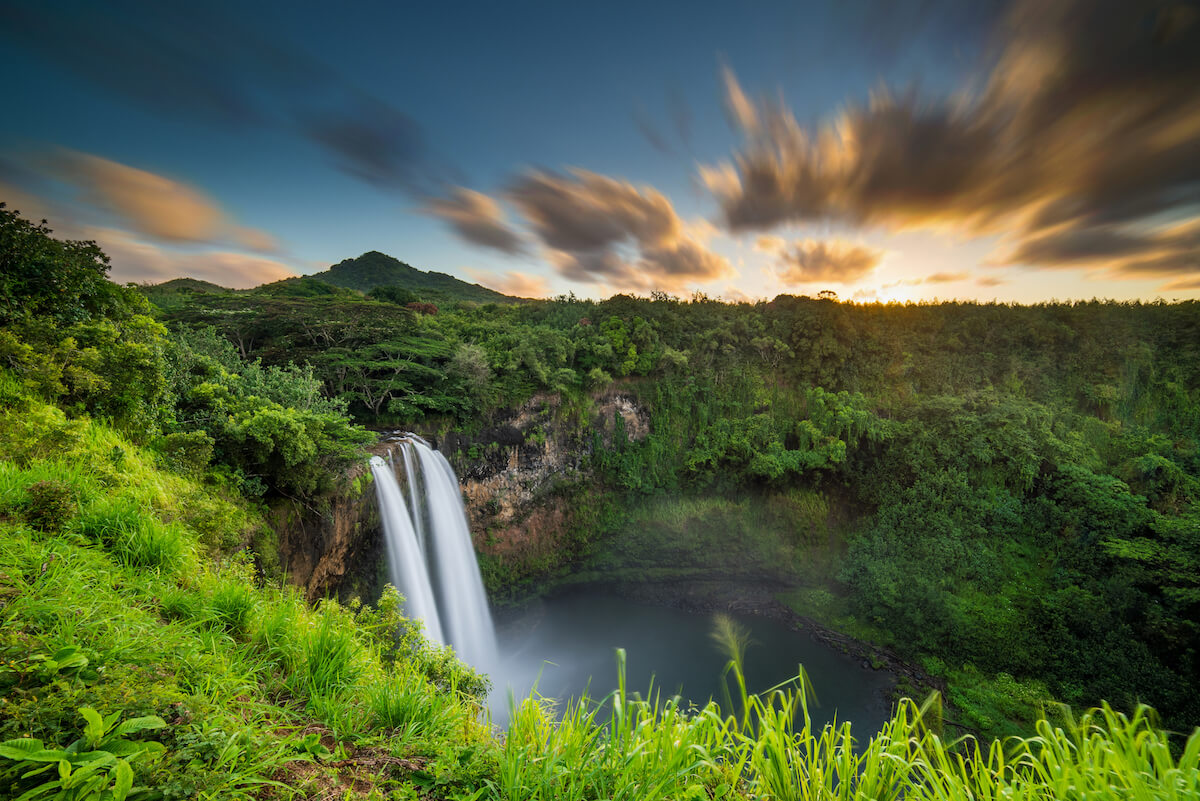 7 Must-See Maui Waterfalls: A Guide to Island Paradise
May 1st, 2023
Maui's waterfalls are truly magical. Mind's eye magical. All you need to do is imagine standing at the base of a cascading waterfall, surrounded by lush tropical foliage and listening to the soothing sounds of water as it plunges into a crystal-clear pool. This is real. This is the enchanting allure of Maui's waterfalls – nature's masterpiece on the Valley Isle.
As a top destination for both nature enthusiasts and adventure seekers, Maui boasts an abundance of breathtaking waterfalls that offer awe-inspiring beauty, complemented by an array of stunning vacation rentals to call home. Where else would you get the chance to cool off with a refreshing swim in such a magical setting?
Come with us as we embark on a journey to uncover the island's most captivating waterfalls, while trekking through verdant bamboo forests, and uncovering hidden gems that will leave you spellbound. So pack your swimwear, lace up your hiking boots, and get ready to dive into the mesmerizing world of Maui's cascading wonders.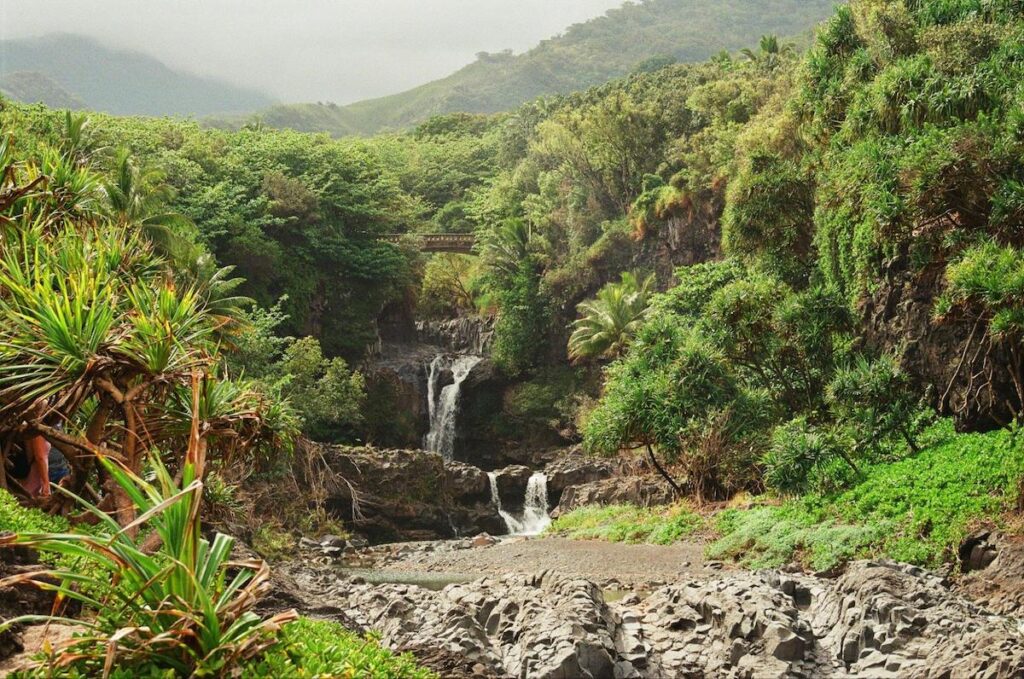 Go Chasin' Waterfalls With Us
1.Waimoku Falls
This 400-foot waterfall is the highlight of the Pipiwai Trail in Haleakalā National Park. The 4-mile round trip hike takes you through a lush bamboo forest before opening up to the stunning falls. The hike through the dense bamboo forest is located along the Pipiwai Trail, then you'll reach the main attraction, the base of Waimoku Falls.
Water from this 400-foot behemoth crashes into the earth and you can take it all in from various points around the falls. Even when the water flow isn't raging, the sheer drop and vibrant setting is a dramatic sight to take in. There are signs and Park Service advice dotted around the falls, so always maintain a safe distance from the falls.
2. Makahiku Falls
This 200-foot waterfall is located in Haleakalā National Park and can be accessed from the Pipiwai Trail. It is a 4 mile round trip hike near Hana. Set aside at least 2.5 to 5 hours for this unforgettable hike, and be sure to give yourself plenty of time to enjoy the lush forest setting. After hiking for a half-mile, the 185-foot tall Makahiku is the first waterfall you'll see. There's an overlook that provides a great vantage point, and you can choose to turn back here or continue on.

3. Upper Waikani Falls (Three Bears Falls)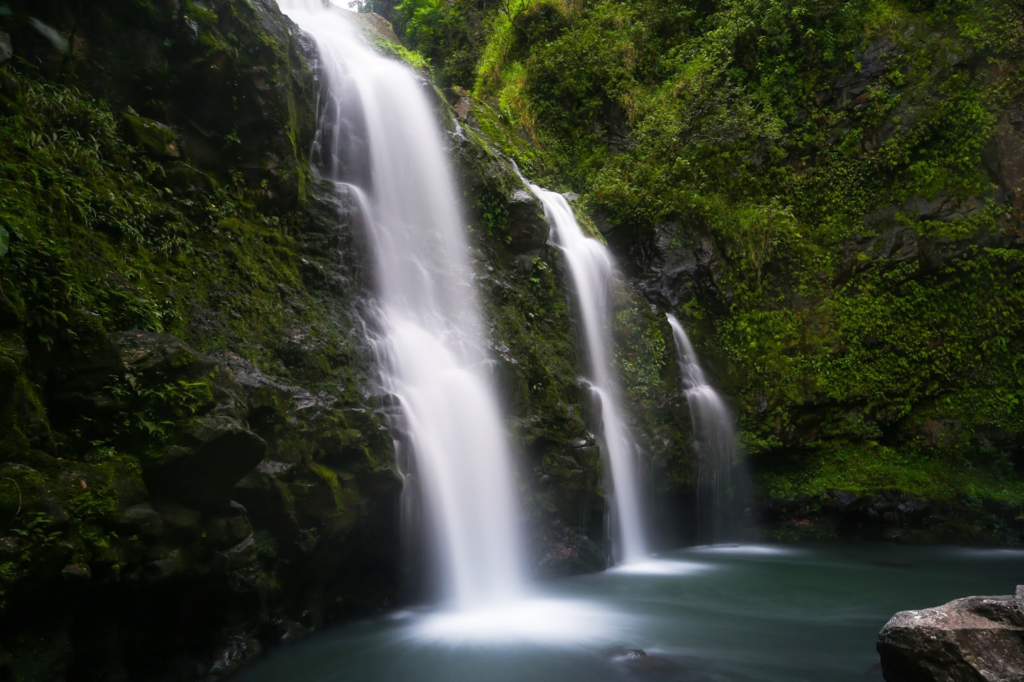 Situated along the Road to Hana, Upper Waikani Falls is a beautiful three-tiered waterfall, which gives it the nickname Three Bears Falls. These falls are located halfway between Kahului and Hana, making them the perfect spot to stop for photographs and a refreshing swim.
Don't let the easy roadside location fool you because the waterfalls are spectacular from afar. If you want to see them up close and go for a swim, you'll need some rock scrambling skills. Once you find the path and confirm that you can tackle the terrain, carefully make your way down to the water.
4. Honokohau Falls
This magnificent waterfall is the tallest on Maui with two tiers that drop a total of 1,119 feet. You won't find Honokohau along any road, though — since it's tucked away deep in the West Maui Mountains, this waterfall is super tricky to be seen on land so many book to view it by helicopter.
If you want to soar around this impressive wonder, be sure to book a tour in advance of your Maui vacation. Tours are popular and tend to fill quickly, so a bit of extra planning will increase your chances of seeing Honokohau.
Honokohau Falls is largely known for its appearance in the "Jurassic Park" movie. The two-tiered waterfall sits along the edge of the rainforest mountainside in Haleakala National Park.
5. Twin Falls
Located on the famous Road to Hana, Twin Falls is one of the most accessible waterfalls on the island. It is one of the first stops along the Road to Hana and it's a short 1 mile there-and-back hike to reach the falls. On your arrival at the falls, you'll find two picturesque waterfalls cascading into a pool that's perfect for swimming.
6. Alelele Falls
For a beautiful moderate waterfall hike that's suitable for all skill levels, the Alelele Falls are perfect. The falls are located near the southern end of the Road to Hana, after a short hike through the lush bamboo forest. This lesser-known waterfall offers a secluded swimming spot and a beautiful, serene atmosphere.
The trail is only 1½ miles roundtrip. It takes less than 15 minutes up old Hawaiian terraces to get to the falls. The falls are 50 feet tall and offer the most serene spot to go for a lazy swim, reflect and relax. Alelele Falls are more secluded than others and can act as your own little piece of heaven for a little while.
It's important to note that the falls are located past the Seven Sacred Pools, and the road is known to be quite narrow and bumpy. It's recommended you drive until the Alelele Bridge and continue on foot from there.
7. Makamakaole Falls
Makamakaole Falls are really a hidden gem of Maui. If you're looking for a solid hike, crossing streams and jumping rocks, these falls are for you. The hike to these falls is known as the 13 crossings hike where the trail crosses the Makamakaole Stream 13 times. The falls are part of a series of cascades along Makamakaole Stream, and the most well-known is the 270-foot tall Upper Makamakaole Falls.
To reach the falls, you'll need to hike the Waihe'e Ridge Trail, which is moderately challenging and approximately 5 miles round trip. The trail offers stunning views of the surrounding landscape, lush vegetation, and native wildlife. Proper footwear and hiking experience are recommended, as the trail can be slippery and challenging, especially during or after rain.
While visiting Makamakaole Falls and hiking the Waihe'e Ridge Trail, be sure to follow safety guidelines, respect the environment, and be aware of your surroundings.
What to Pack for Your Hike to the Falls
When hiking to waterfalls in Maui, it's essential to be well-prepared for the varying weather conditions and terrain. Here's a list of items to pack for a comfortable and safe hiking experience;
Appropriate Clothing
Quick-drying clothes: Avoid cotton as it takes longer to dry. Opt for moisture-wicking materials like polyester or merino wool.
Swimwear: For swimming in the waterfall pools and a towel.
Rain jacket: Maui's weather can change quickly, and rain showers are common.
Hat and sunglasses: To protect you from the sun.
Sturdy, comfortable footwear: Water shoes or hiking sandals with good traction are ideal for navigating slippery rocks and crossing streams.
Safety and Navigation
Trail map and/or GPS: Download or purchase a map of the trail you're hiking.
First aid kit: Include band-aids, antiseptic wipes, pain relievers, and any personal medications.
Phone and portable charger: In case of emergency and to take the all important instagram photos.
Food and Hydration
Water: Bring at least two liters per person for a day hike. Consider using a hydration system or reusable water bottles.
Snacks: Energy bars, nuts, dried fruit, and jerky are great options for easy, portable nutrition.
Extra Items
Insect repellent: To protect against mosquitoes and other insects
Sunscreen: SPF 30 or higher, and waterproof if you plan to swim
Waterproof bag or dry sack: To protect your belongings from getting wet
Trash bag: To carry out your trash and leave no trace
Hiking poles: They can provide extra stability on slippery or uneven terrain
Binoculars: For birdwatching or enjoying the scenery
Fall in love rapid-ly with Maui Waterfalls
Maui waterfalls are truly a sight to behold, and with so many dotted around the island, you'll have no shortage of fun trips and drips to these magical spectacles of nature. Whether you want a quick leisurely walk to a waterfall or a full day trip of hiking, rock jumping and swimming, Maui waterfalls has got you covered. Check out some of our luxury maui vacation rentals and start planning the ultimate island getaway today.
Common Queries About Visiting Maui Waterfalls
Are the trails to the waterfalls well-maintained?
Many of the waterfall trails in Maui are well-maintained, especially those within state or national parks. However, some trails off the beaten track may be less maintained or even unofficial, so it's essential to exercise caution and be prepared for uneven or slippery terrain.
Is it safe to swim in the waterfall pools?
Swimming in waterfall pools can be a refreshing and enjoyable experience, but it's essential to exercise caution. Be aware of any potential hazards, such as strong currents or slippery rocks. It's also a good idea to avoid swimming if the water appears murky, as it could indicate flash flood conditions.
Can I access the waterfalls with a rental car?
Many of the waterfalls in Maui are accessible with a rental car, especially those along the Road to Hana. Be aware that some car rental companies may have restrictions on driving the full length of the Road to Hana or on other unpaved roads. It's a good idea to check with your rental company before embarking on your journey.