The Pebble Beach of the Pacific
February 1, 2019
We are excited to introduce two particularly special, luxury homes to our ever-growing portfolio of vacation properties. We love being able to offer our guests a wide variety of options to perfectly suit their unique needs and wishes. These two homes at Alaeloa are just steps away from one another and can collectively accommodate up to 14 people – perfect for a large family gathering or special occasion.
If you haven't heard of Alaeloa yet, you are not alone. This property is one of Maui's best kept secrets. Nestled along Maui's west shoreline, Alaeloa is a secluded, oceanfront community of just 42 residences that exudes old Hawaiian charm. This gated community feels spacious and serene with a lush mango grove, oceanfront pool, beach cove snorkeling and easy ocean access for surfing at Little Makaha.
Alaeloa 23
Alaeloa 23 is a direct-oceanfront 3-bedroom, 2-bath home with stunning views – so close you can watch the turtles below your deck. This home was recently updated with gorgeous furniture and decor and boasts an extended lanai to fully take in the peaceful surroundings. Click here to book Alaeloa 23.

Alaeloa 44
Just steps away from Alaeloa 23 is Alaeloa 44, a 2-bedroom, 2-bath home located on the hillside overlooking the beautiful Pacific Ocean and the island of Molokai. The large, fully-equipped kitchen and spacious open living room and dining area make this property feel like a relaxing retreat. Click to book Alaeloa 44 here.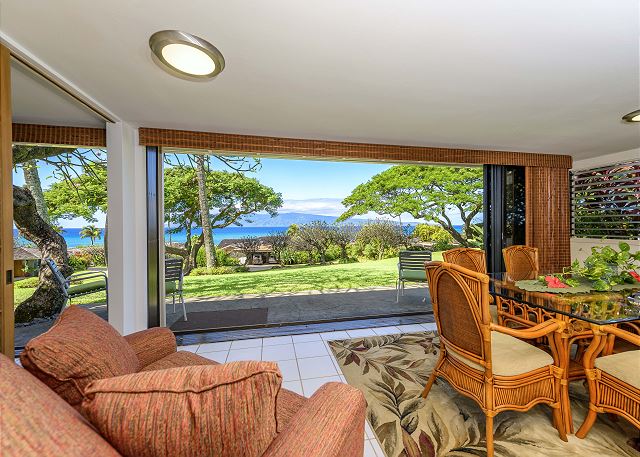 Come experience the place that has often been called the "Pebble Beach of the Pacific." Alaeloa is not just a place, but a state of mind.
You can view all of our vacation properties here.