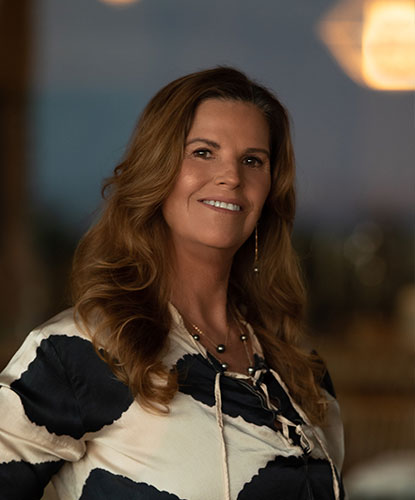 Jan Hunter R(S)
Interior Design Consultant
Jan Hunter is a Maui based and beach inspired interior designer with over three decades of experience helping clients create their dream spaces. She is dedicated to collaborating with her clients, matching their own unique visions with their budgets and lifestyles. Jan's Hawai'i Real Estate experience enables her to approach the design process with an in-depth understanding of current marketing trends to transform your investment into a showcase island retreat.
Growing up in the artistic small town of Ojai, California, Jan's love for design started as early as she can remember. With a father who was a contractor and a mother who was an interior designer, the ability to see a space for all that it could become rather than simply what it was in the moment has always been a part of her daily life.
After traveling through New Zealand, Australia and Indonesia, Jan and her husband Ross moved back to California to be closer to her family. Her father took Ross under his wings and taught him everything he knew about the construction business. Jan and Ross became a team much like her own parents; passionately creating and renovating while simultaneously growing their family.
Jan became an esthetician and created one of Conde Nast's top 10-day spas in California. A designer at heart, Jan was constantly rearranging and reinventing the space, always having extra fun during the holidays and incorporating a festive flair. Clients were constantly asking her for help with their own home interior decorating. She soon found herself drawn back into the world of interior design where she continues to help clients create spaces that go above and beyond their expectations.
Jan moved to Maui, Hawai'i in 2002, obtaining her Real Estate license and eventually becoming a full-time design consultant.  She and her family live in Lahaina close to the ocean where they spend their free time fishing, whale watching, and enjoying long summer days at the beach.
Phone: 808.214.1011
Email: info@mpphawaii.com